Building a Piano Concerto: My Yearlong Journey
Posted on
August 21, 2017
This story is about my Concerto for Piano and Winds (2015), composed for students at Roosevelt University: about its commission, writing, and performance. It is my hope that this narrative sheds light on the compositional and collaborative process, and illuminates some of the inner workings of constructing a long piece of music. A video of the premiere performance at Roosevelt University can be viewed here or on the Media page of this site.
The Commission
The commission came about in 2014 during a casual conversation with Stephen Squires, Professor of Conducting and conductor of the CCPA Wind Ensemble at Roosevelt University. Our offices are quite close to each other on the 9th floor. Steve asked me to write a piece for the wind ensemble's next season, and I immediately agreed. Then, some weeks later, in another impromptu hallway talk, Steve adjusted his request: "I want you to write us a piano concerto, and you will be the soloist." I was floored; I had never soloed before with a full ensemble, and this was a remarkable opportunity. Again, I agreed on the spot.
In spring 2014, the date of the premiere was settled: November 3, 2015. Rehearsals would begin on October 20, and PDF files of the scores and parts were due a month before that (our Performance Activities Office graciously printed and copied the parts). Around the same time, I confirmed the orchestration with Steve: 3 flutes (3rd doubling piccolo), 2 oboes, 2 clarinets in A, 2 bassoons (2nd doubling contrabassoon), 2 horns, 2 trumpets in C, 2 trombones, tuba, timpani, 2 percussion, and solo piano. Steve had offered me much more in terms of instruments: saxophones, more percussion and auxiliaries, and so forth. I purposely opted for the smaller cohort–I intended to write not for that "big band" sound, but rather for the wind section of an orchestra. I wanted a chamber-music quality.
Steve is an expert educator and a fierce advocate for new scores. At Roosevelt alone, he has commissioned and premiered significant new pieces from four faculty members in the past five years (myself, Stuart Folse, Kyong Mee Choi, and Stacy Garrop). The November 3 concert would also feature music by Steven Bryant, Roshanne Etezady, and Carter Pann (all born in the 1970s).
Writing Process
The fall semester 2014 came and went without progress on the concerto, as did spring semester 2015. I often find it difficult to work on large projects during the school year. Still, I get very anxious and nervous as time passes and the performance date nears. As soon as I submitted grades in May, I got to work on the short score of the piece. I completed the short score in about 3 weeks (May 5-23).
A question that I frequently field as a composer is "how do you start your pieces?" Every composer is different, and this is a matter of personal preference. I am a start-to-finish composer: after some preliminary sketching and improvising on the piano, I begin with bar 1, and write continuously until the double bar. I need to be sure that the dramatic flow runs continuously from the first moment to the last. I also like to start with thin textures, likely a solo or duo, that clearly announces the piece's core idea.
The above photo is a great demonstration of this. I improvised on the piano until I came up with the tune at the top left. After more improvising, I made additional sketches; for me, "sketches" are a mixture of musical fragments and textual instructions. Particularly helpful for me are lists of textures that I really want to cover in a given section; I rely on this especially for fast tempos. Once I was convinced that the top-left tune was problematic and fertile enough, I drew bar 1 and started in earnest. Schoenberg said that a composer's greatest skill was to look "into the future of his ideas." Before committing to an idea, I need to make sure that it has a future: that it can organically grow and develop, that it naturally leads to meaningful conversations with contrasting ideas.
Let's take a closer look at the opening tune, which I assigned to solo tuba (0:37 of video).

In reality, this melody is quite silly. It's low, exposed, unassuming, and quite four-square; the first two bars are playful and slightly awkward, whereas the following measures are more expressive. So what makes this "problematic"? Yes, there are jagged leaps and sharp changes in personality. But primarily it's the tonal ambiguity. The key is never explicitly stated. The first measure implies F# minor and D Major, but neither implication is strong. The pitch F# is not heard again. D Major is weakened by mode mixture, through the sounding of G minor (iv) and Eb (the Neapolitan), which is the highest and perhaps most expressive pitch so far. Although the pitch D return on the downbeat of bar 4, it does so as part of a G minor triad, and again the F# is absent. I like my melodies to keep spinning forward tonally, offering new colors and implications, and avoiding full harmonic closures too early on. The note pitch E-natural is meant to be a musical question mark, something that poses a question and also clashes with the highlighted Eb from bar 3.
Back to the issue of creating a score: I always compose by hand at the piano. I need to hear every note I write. A synthesizer doesn't do it for me either: I need to feel that immediate connection with music making. For large ensemble works, I typically commence with a 4-stave short score format, as sort of a "laboratory" for my ideas. The short score allows me to deal with the ideas more directly. After I completed the short score, the orchestration was a separate process that I accomplished on the computer using Sibelius software. I admire composers such as Christopher Rouse and Bernard Rands who can confidently work directly into the orchestral score. At this point, I don't feel ready for that leap of faith yet.
In some ways, writing by hand makes me a dinosaur. There are certainly quicker ways to produce the notes on a page. For me, writing every note and rest by hand slows down the process so that I think carefully about each decision. I am made more aware of relationships and repetitions that I might otherwise not have caught. "Copy and paste" becomes laborious, and this causes me to avoid literally copying and pasting passages in my music, achieving greater variety. I can also clearly see erasures and stages of writing ("how did I arrive at this idea?"), all useful information that can be employed elsewhere in the creative process. John Corigliano encouraged me to write on long pieces of manuscript paper, so that larger stretches of texture could be viewed at once.
The short score was completed on May 23, after I spent a few tense days playing the ending over and over again, deciding on the expanded version you see above. Something just didn't sit right about the original ending. Ultimately, the final measures needed to "stretch out" a little more–things were happening too fast–so I slowed down the harmonic rhythm and added extra layers of texture, like the running scales in the bass. Notations in red are later corrections, additions, revisions, orchestrational labels–anything during the second wave of review.
Following summer travels and work on other projects, the orchestration of the Concerto began in late July and wrapped up in early September. This gave me a brisk two-week period to edit the score and parts, which were delivered on time.
Finding Form
I knew that I wanted a one-movement piano concerto, or a concerto with interconnected attacca movements, akin to the Ravel Concerto for Left Hand and Prokofiev's Concerto no. 1, op. 10 (which I played during my high school days). While working on the first page of short score, the following basic formal scheme came to mind:

Wow, A-B-A ternary form. How original. Yet for a piece of this size, I anticipated changes to the initial structure, or at least opportunities for nuance in the way that these large sections were filled in. I like to start with a simple schema, maybe even overly simple, so that complexities can be inserted later in the process. The first such decision thereafter: placing the piano's cadenza in the first section (1:24 of the Youtube video):
Messing with the placement of the soloist's cadenza is not a groundbreaking move. Composers have been doing that since Mendelssohn's Violin Concerto in E Minor op. 64, and perhaps earlier. By positioning the cadenza early, as the soloist's first entrance, I at least tried to generate drama, and to distinguish myself for the Classical and early Romantic concerto model. Thus the first large section grew into a ternary substructure:

But my overall plan needed one more major overhaul. After composing through the full A section (about 4 minutes of music), I arrived at an impasse. Somehow, the music didn't cry out for a slow section just yet. Contrary to my original ternary design, I suddenly started improvising fast ideas. "No, not slow," the music seemed to hint, "Before you slow down, go even faster." And that's what I eventually did; you can hear the B section at 4:47:

Without going into every single detail of the form, I will highlight one more spot: the slow section (marked "C" above). This sprawling adagio "love theme" (as one of my colleagues called it) was indeed dedicated to my wife and notated as "Susan's theme" in the score. The theme is introduced by a lengthy piano solo (7:30), eventually answered by solo flute. For the internal "b" area of the slow section, I borrowed material from the "b" area of the A section: in other words, the middle of the slow music is actually a reprise of the cadenza material, this time for piano and full ensemble:

And here is that Adagio theme in full:
The opening nod to Lydian mode makes it sound like I stole it from The Simpsons or the finale of Brahms's Piano Trio in C Major, op. 87. My focus here was to project the same tonal ambiguity as the opening tuba solo: F# minor versus D Major. The first phrase is in D Major (Lydian), followed by F# minor, F# Major, and then F# Major with mode mixture (thus bringing back the pitches D-natural and A-natural in the penultimate phrase). In this case, however, I finally acknowledge F# as tonic (at least for the time being) with a full cadence; indeed, the end of the entire concerto is on F#. The spiritual model for this type of soaring triple-time adagio is Ravel's Piano Concerto in G (second movement); my version is far less inspiring, but the Ravel was certainly in my ear as I tried to put this section together.
All the formal plans shown above were never written down in the short score. Form is always a moving target; any new information added to the score alters its structural trajectory. I can never reliably plan the entire form before setting down notes on the staff. Through constant playing through and improvising, the likely formal structure is like a mental scoreboard that flashes in my mind; I like to keep it simple enough to remember and general enough to permit modification. I have also seen the sketches of other composers such as Corigliano, Sofia Gubaidulina, and David Dzubay: these sketches are far more detailed and thorough, using lines, shapes, colors, gestures, and text descriptions. An outstanding example of this is Augusta Read Thomas's map for her Hemke Concerto: "Prisms of Light" (2014) for alto saxophone and orchestra, which you can view online. My own process, however, has never been able to accommodate such detailed pre-planning. Again, it's a matter of personal preference and every composer is unique.
Rehearsals and Premiere
We had five rehearsals for my Concerto, starting as promised on October 20, 2015 (one of the great benefits of an academic environment: ample rehearsal time!). I jumped in right away at the first rehearsal. Typically I avoid a first rehearsal, allowing the ensemble to get acquainted with the piece without the added pressure of me standing over them. In this case, however, the piano part was so integrated into the overall texture that removing the soloist would have been counterproductive. I remember vividly our very first run together; we made it through the first two large sections up to the slow music. It was an electric feeling to hear everything put together, and to experience it from the soloist's chair! All of the chamber elements, the conversation, the humor and quirks were happening right in front of me. Apparently the electricity was mutual; Steve took a moment, put down his baton, turned to me, and smiled. "This actually works!" I thought.
My wife Susan attended the third rehearsal. Score in hand, she wrote down several suggestions that were immeasurably helpful; these included practice tips and some revisions or updates to the notation.
This Concerto is at heart a chamber work, and also a student work: I wanted it to contain both expressive and instructive elements. Solos and featured sectional moments abound, from the opening tuba line to the flutes a due in the slow section; the brass fanfare early in section B is later taken up by the double-reeds. At the same time, I was careful not to overcomplicate the score, especially in terms of rhythm. I avoided complex layered rhythms; tricky tuplets are scarce, and many sections are in 4/4, 2/2, or 3/4 meter. Except for important solo passages, most entrances occur on stable metric places. And lastly, I wanted a gratifying piece to play, something that the students could get, could dig in to. There should be highs and lows, big and small, grand and intimate. Moments to draw back, and moments to let loose. Chamber moments and large ensemble moments. Competition and cooperation.
The dress rehearsal and performance took place in Roosevelt's Ganz Hall, in downtown Chicago, on November 3, 2015. During the dress rehearsal, something auspicious happened: as I worked my way through the cadenza, I broke a piano string (!) on the highest B-flat–something I've done only two or three times in my entire life. As Steve worked the ensemble through the ensuing cadenza, I hopped offstage, found Abbey Springer from our Performance Activities Office, and asked her to find Wesley Owen, Roosevelt's expert piano technician. Fortunately, Wes was still in the building; he hurried down to Ganz Hall, and the string was repaired within the hour.
The performance went off without a hitch; Steve led our Roosevelt students through a tight, fast-paced, and impassioned reading of the piece. It was our strongest run. To premiere even a brief new work is challenging, but to pull off the premiere of a full-length concerto, all while collaborating with a faculty soloist, is enormously difficult. My hats off to them on what was a fulfilling and memorable experience. Below are some photos from the performance.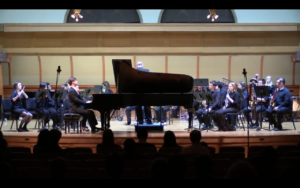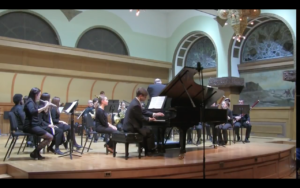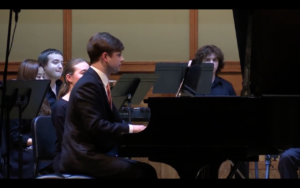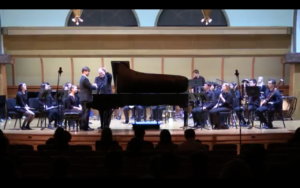 And this is us after the concert. Whew! Bravo to Steve and the CCPA Wind Ensemble, and many thanks to my wife and all the people who supported this yearlong project. In sharing this narrative, I hope to start conversations on how composers tackle large projects, as I am sure that each composer takes a different approach.
COMPOSERS! I would love to hear your thoughts on your composition process. Do you work at the piano? Do you start with the beginning, middle, or end of your pieces? How much material do you map or sketch in advance? Or perhaps your process changes from piece to piece? How do you negotiate large-scale and surface-level decisions? Would love to hear from you in the comments below. Happy composing!
copyright 2017 Edward (Teddy) Niedermaier
no reproduction or reuse without permission